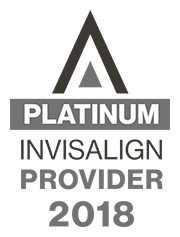 Barrish & Lehnes Orthodontics is a Platinum Premier Invisalign Provider located in Randolph, NJ.
What is Invisalign treatment?
Invisalign is a series of clear aligners programmed by Drs. Barrish, Lehnes or Sittmann to move your teeth into their most aesthetic and functional positions. The aligners are custom-fit to your smile so that tooth movement can occur in the most predictable and efficient manner.
In order to create the aligners, an iTero® digital scan is obtained, and a 3D virtual model of your teeth is created. Then, Drs. Barrish, Lehnes or Sittmann work with Invisalign's team to create a series of virtual models that represent the continuous improvement of your teeth. The Invisalign aligners are then fabricated to fit these models.
When you insert an Invisalign aligner, the intention is not for the aligner to match the current state of your teeth; instead, the aligner fits a slightly improved version of your teeth! As a result, the aligner puts pressure on the teeth to move them into a better position.
By wearing the aligners 20 to 22 hours per day and progressing to new sets of aligners every week, you can achieve the smile you've always desired without wearing traditional braces. The technology of Invisalign has improved dramatically so that many cases that could not be treated with clear aligners in the past can now be treated with Invisalign.
Invisalign treatment can take anywhere from a few weeks to a few years, but typical treatment times range from nine to 22 months. The duration of time depends on the amount of tooth movement necessary. Remember, Invisalign is just a tool that is used to move teeth. Your teeth don't know whether they're being pushed with plastic aligners or pulled with brackets and wires, they simply respond to the force systems that are produced by the appliances.
Invisalign Aligners vs. Traditional Braces
Invisalign aligners are clear, so most people won't even notice that you are wearing them, including yourself. The aligners are also removable, so they can be taken out when you eat, brush, and floss. They also don't affect your speech, and are very comfortable.
Ensuring Success with Invisalign Aligners
If you are compliant with our Invisalign protocol by wearing aligners for 20 to 22 hours per day, you can anticipate achieving ideal smile results in a timely manner. Remember, your teeth will only respond to the force systems applied by the aligners when you wear them.
You'll also need to visit our Randolph orthodontic office every six to eight weeks so Drs. Barrish, Lehnes or Sittmann can monitor your progress and deliver new aligners. However, with the proper foresight and engineering, accommodations can be made to see you even less frequently in instances where office visits are difficult (ie. if you are in college, are traveling, or live out of state).
Excellence in Invisalign Treatment
When it comes to your Invisalign treatment, experience matters! Last year, Drs. Barrish, Lehnes and Sittmann treated more than 100 Invisalign cases! This has earned them the distinction of being Platinum Invisalign Providers. With this vast experience, Drs. Barrish, Lehnes, and Sittmann have mastered treating cases in the most efficient and predictable manner. When offering Invisalign treatment, Drs. Barrish, Lehnes and Sittmann strive to achieve the same goals of optimal aesthetics and function that we pursue when utilizing braces.
While we have used Invisalign to change hundreds of smiles, it's important to remember that Invisalign is only the tool used to move the teeth. Drs. Barrish, Lehnes and Sittmann, along with our tremendously well-trained and experienced team, are the ones responsible for developing the precise plan that will achieve the smile you've always wanted. Their skill set and expertise allows your treatment plan to become your smile reality.
Learn more about Invisalign at Barrish & Lehnes Orthodontics by scheduling an appointment at our Randolph, NJ orthodontic office. We're here to see you smile!